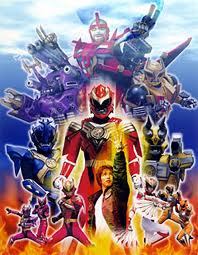 where anyone can edit, except some protected pages
Note: The entire GranSazers Wiki is under CC-BY-SA License
ChouSeiShin GranSazer (超星神グランセイザー Chōseishin Guranseizā), translated into English as Ultra Star Gods and the GranSazers or Super Star Gods and the GranSazers, is a tokusatsu superhero TV-series, produced by Toho Company Ltd., and Konami. The series is the first of Toho's ChouSeiShin Series, which was first aired on TV-Tokyo from October 4, 2003 to September 25, 2004 in Japan, consisted of 51 episodes of half an hour each.
The series had 12 warriors who were divided in four tribes, each tribe had an enormously designed ultra-advanced mecha called ChouSeiShin. The series is a bit like both Super Sentai series and the manga/anime series, Saint Seiya.
Tribes
Other Pages
Thank You for coming here!